This course is currently closed. Please join the waitlist for priority notification when we next open.
A business coaching program for Christian women entrepreneurs
combining personal Bible study, video instruction and group coaching.
Hi! I'm Katie Hornor.
Are You Ready to Hear From God About Your Business?
This mastermind/online training program is designed to help Christian women in business gain clarity and confidence that will propel your business forward.
What Women are Saying:
About the program:
I'm speaking regularly with online business women who have fears that are holding them back. For many, it's fear of the unknown, fear of rejection, fear of judgement, fear of success or even fear of the tech.
I would love to be the person who teaches you how to overcome those fears by the power of the Truth.I want to help you run your business with confidence and get results. Confidence that comes from doing business WITH God, not apart from Him.
In this Business Coaching/Bible Study Experience, I will share strategies that will help you re-program your thinking when it comes to what you believe about God, His Word, yourself, and your business.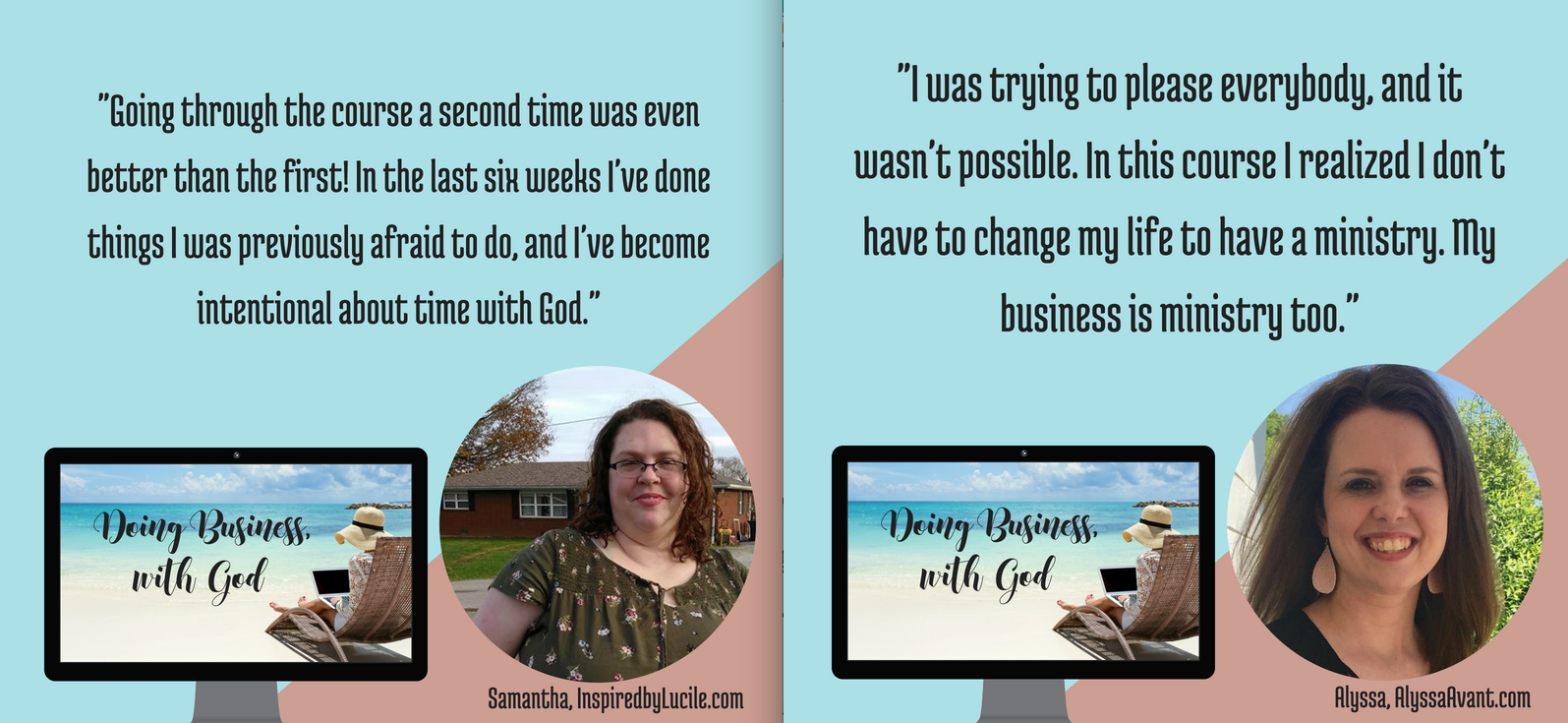 This will be a 6-week program with daily and weekly assignments. We'll evaluate ourselves and our businesses in light of God's Word.
We'll discuss what we're learning together in a private Facebook group and weekly zoom call mastermind sessions. Everyone gets to be accountable within your small group.
I'll have weekly videos that walk you through how to make the practical applications from what you're learning.
We'll meet once a week on a live zoom call with your small group to work together on specific personal applications to YOUR business.
Because it's only a 6-week program, you must come prepared to do the work. While the challenges will be brief, you'll need to make time for them every day.
I promise it will be worth it.
This program is for YOU if you're ready to put God first in your business, follow His lead and finally be able to make decisions with clarity and confidence!
Did You Know?
Women are starting an average of 849 new businesses per day, up 3% from 2016 and up 114% from 20 years ago. There are currently 11.6 million women-owned businesses in the US.
If you are not confident in who God is and what He wants for your business, your time management, your product creation, your marketing, your service to your readers and clients, you are getting left behind.
God's truth has to be the basis for everything we do in life and business if we want to succeed.
Sign Up Now!
The normal cost for the 6-week program will be $297. Yes, you heard that right. But hurry, space is limited! And it will never be at this low price again.
Program starts on Thursday, March 28th.
Sign up now to secure your spot!
I want to help you get results. When you join, you'll become a member with lifetime access to the program and instructional videos.