Handprint Legacy Live 2021
The Christian Marketing Event of the Year, June 24-26, 2021
Enroll in Course
The Christian Marketing event of the year! A live event experience like nothing you've ever seen. Walk away with your first or next marketing funnel all mapped out, plus gain a new network of friends and enjoy the flamingo fiesta all weekend long.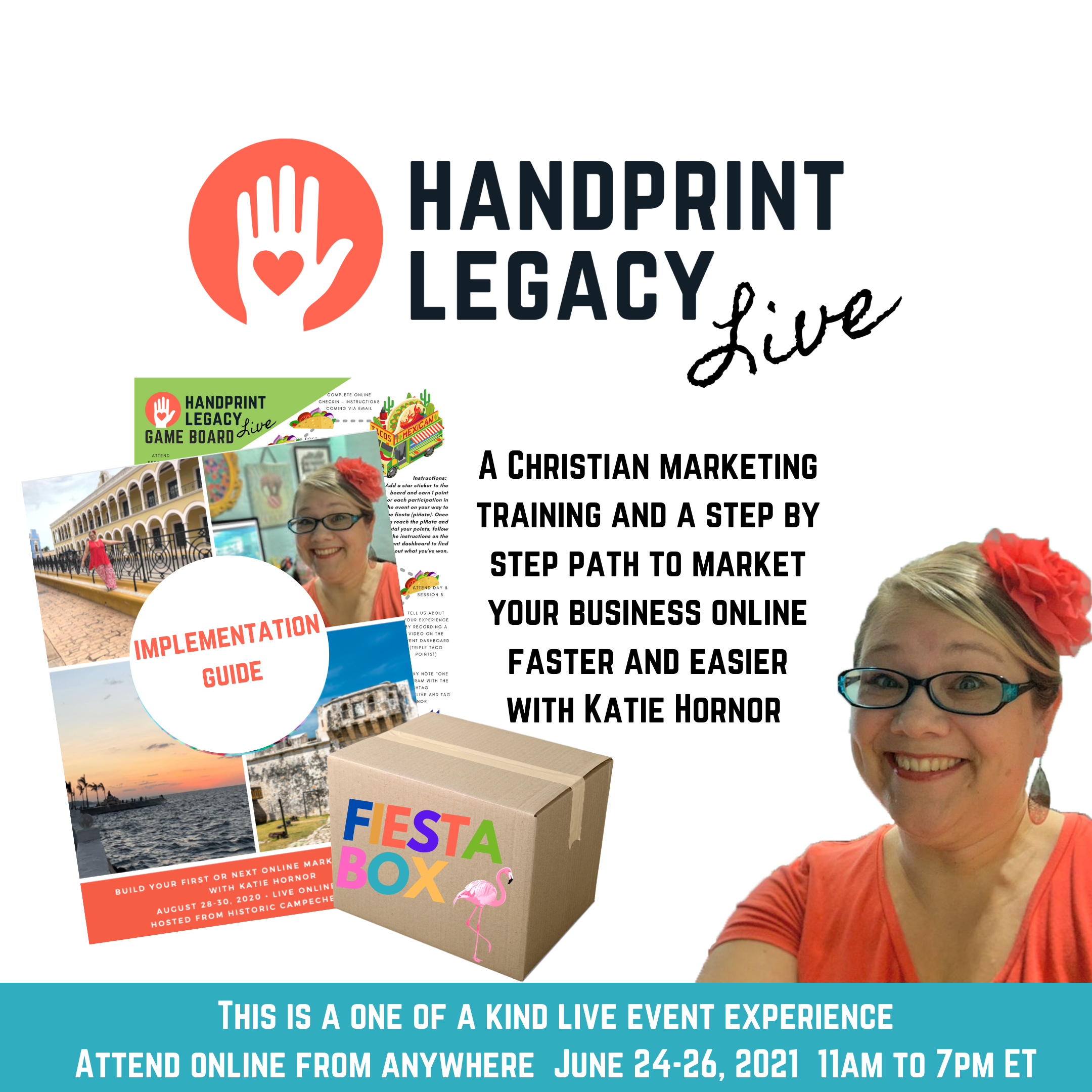 At the event you'll learn:
The power of marketing like Jesus in today's crazy world!
Why less is more and mastery is the key to greater sales as a believer with a business.
How to create a marketing strategy and system needed for growing your small business in confidence.
As an attendee at Handprint Legacy Live you will...
Enjoy all the general sessions of the event.
Map out your first or next marketing funnel before leaving the event.
Connect with other faith-based business owners in a fun virtual environment.
Incur zero travel or hotel costs. Enjoy the event from the comfort of your home.
(regular price $97)
All Access Attendees get all benefits of the general ticket plus the added joy of:
A VIP welcome reception.
Additional amazing interactive sessions with Tap and Katie Days 1 and 3.
The option to submit an application for laser coaching during the event.
(regular price $197)

Your Instructor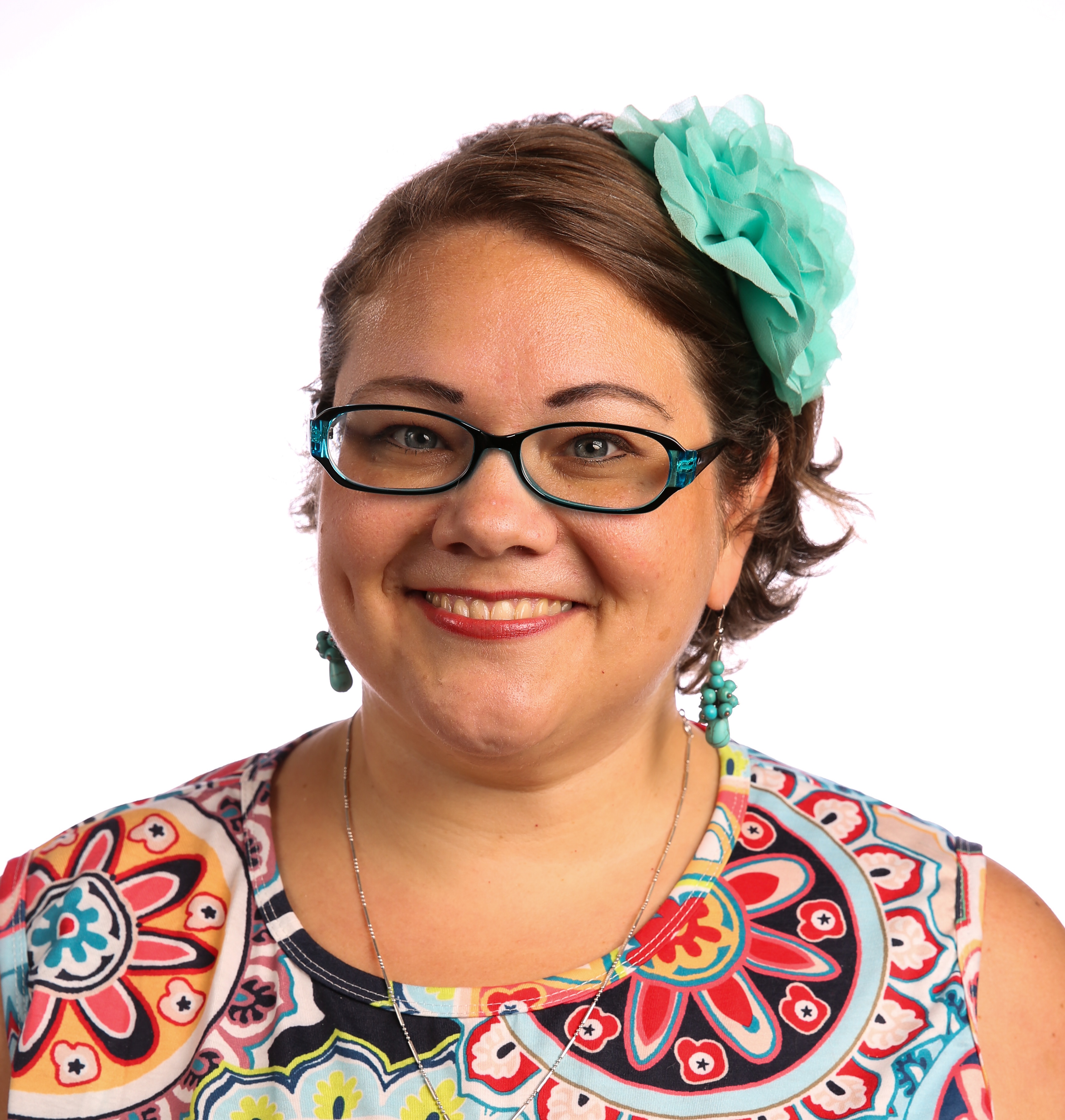 Katie Hornor is a popular author, online business coach, mentor and international speaker whose forte is curriculum development, and relationship marketing. She has a M. Ed. and has studied under the best names in online business and marketing world including Jeff Walker, Michael Hyatt, Jeff Goins, Ray Edwards, Stu McLaren, Pete Vargas, Pat Quinn, Steve G. Jones, Linda Hollander, Ryan Levesque and Aaron Walker.
The founder of HandprintLegacy.com and Lemonhass.com, she is also the leader of the worldwide Spanish homeschool movement and the author of over 24 courses and 40 self-published books, including "Faith Like Flamingos: The Christian Business Guide to Walking Out Your Faith in Bold Color" and 8 other Amazon best-sellers.
From her experience developing a movement and training leaders for the past 11 years, she shares unique insights in each of her courses into how we can live out the proven mantra of "Your Message Matters."
Katie and her husband Tap run their business, love on their students, and homeschool their five kids from tropical Mexico. Connect with her at www.HandprintLegacy.com
Frequently Asked Questions
When is the event?
June 24-26, 11am to 7pm eastern USA time
Are tickets refundable?
No. Ticket purchases are non-refundable. Name transfers can be accommodated through June 1, 2021.
Are there group discounts?
Group ticket sales inquiries can be directed to our team via email to
[email protected]
All ticket sales are non-refundable. Name transfers can be accommodated through June 1, 2021.
Will the recordings of the event be provided?
No, we are not offering recordings with ticket purchase. We have specifically designed this event to feel like a live in-person event. We want you to be there to experience it and play full out LIVE with us!
What is the schedule for the event?
The hours will be 11 am to 7 pm eastern USA time. We are still finalizing the schedule and it will be given to you with the workbook download the week of the event. We will do our best to stick to those hours but reserve the right to flex in the moment as needed.
How will I access the event?
You will receive an invitation to check in online the week of the event. Upon completing checkin. you'll receive a link to our exclusive event dashboard where you'll see buttons to join the main sessions and other activities virtually. We will be using a zoom type technology for the interactive live-streaming sessions. You'll be able to access them anywhere as long as you have an internet connection on your device.
Is there a Facebook group or community for this event?
Yes, you will receive detailed instructions via email for joining the community Facebook and Telegram groups about 10 days prior to the event.
Can my team/ family attend with me?
Absolutely! Each adult attendee must have their own ticket for access to the event dashboard and activities.